The Ceramic Package, or Cerpack, is a hermetically sealed rectangular ceramic package that has leads extending from both of its longer sides, thus forming two sets of in-line pins.
It is therefore a type of dual-in-line package (DIP) like the CerDIP.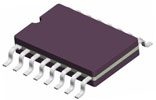 Figure 1. Example of a Cerpack
Just like the CerDIP, the Cerpack's ceramic body is composed of an upper part called the 'cap' and a lower part called the 'base'. After the die has been mounted and wire-bonded inside it, the base is sealed with the cap using molten seal glass that solidifies into a moisture-resistant material once it cools down.
The difference between a CerDIP and a Cerpack is that the leads of the latter are directly attached to the base (lower half) of the package body. Cerpacks, therefore, no longer need to have a lead frame attached to the base unlike the CerDIP.
Cerpack lead counts range from 3 to 40. The lead pitch of a Cerpack package is typically 50 mils. Table 1 shows typical nominal values for the dimensions of some examples of Carpacks.
Table 1. Properties of Some Examples of Cerpacks
| | | | | |
| --- | --- | --- | --- | --- |
| Lead Count | Width | Length | Thickness | Lead Pitch |
| 10 | 241 mils | 270 mils | 70 mils | 50 mils |
| 14 | 250 mils | 390 mils | 70 mils | 50 mils |
| 16 | 250 mils | 390 mils | 70 mils | 50 mils |
| 20 | 266 mils | 540 mils | 75 mils | 50 mils |