PQFP - Plastic Quad Flat Pack
The Plastic Quad Flat Pack, or PQFP, is an IC package with leads extending from all four sides of the package body. PQFP's are predominantly square in shape, although rectangular variants do exist.
The PQFP is just one of the many types of the quad flat pack (QFP) package.
The PQFP comes in many body sizes, with
lead counts ranging from 32 to 208. Lead pitch values used by PQFP's range from 0.4 mm to 1 mm. Typical PQFP body thickness varies from 2 mm to 3.8 mm.
Lead coplanarity is very critical for PQFP's, and should be within ±4 mils for this package.
Table 1. Properties of some PQFP's
Part #

No.
of Pins

Body
Size

Body
Thick-

ness

Lead
Pitch

Foot-

print

Qty
Per Tray

Tape
Width

Tape
Pitch

Qty
13" Reel

QFP44

44

10mm sq

2.0mm

0.80mm

3.2mm

96

24

24

500

QFP52

52

10mm sq

2.0mm

0.65mm

3.2mm

96

24

24

500

QFP52

52

14mm sq

2.67mm

1.00mm

3.9mm

84

32

24

350

QFP64

64

10mm sq

2.0mm

0.50mm

3.2mm

96

24

24

500

QFP64

64

14mm sq

2.67mm

0.80mm

3.9mm

84

32

24

350

QFP64

64

14mm x 20mm

2.71mm

1.00mm

3.2mm

66

44

32

200

QFP80

80

14mm sq

2.67mm

0.65 mm

3.9mm

84

32

24

350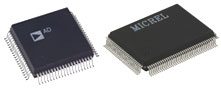 Figure 1. Examples of PQFP's (not in scale with each other)