Test Equipment Accessories
Contactors and Loadboards
High-volume electrical testing of integrated circuits requires an Automated Test Equipment (ATE) in conjunction with a test handler. ATE/handler systems, however, are generic pieces of equipment that need to undergo final configuration to make them suitable for use on devices they are to test.
Accessories needed to configure an ATE for production use include the right contactors to match the package of the devices under test (DUT's), family boards to match the ATE to the product group where the DUT's belong, and loadboards, interface boards, or DUT boards to configure the ATE to match the test requirements of a specific device (or a specific group of devices).
Just as semiconductor package outlines come in all forms and sizes, so do the contactors or contactor assemblies that cater to each of them. A contactor is a mechanism with a set of contact elements usually in the form of metal fingers (also known as 'contact fingers') or spring-loaded pins that come into contact with the leads or solder balls of the DUT during electrical testing. Before production testing can begin, the test handler must first be fitted with the test contactor assembly or contactor block suitable for the device to be tested.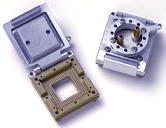 Fig. 1. Examples of ATE Contactors
The term 'contactor' may also refer to sockets employed to get convenient electrical access to the DUT, especially if the DUT is a fine-pitch, high-pin count complex device. Sockets are often used for hand-testing of DUT's or in failure analysis.
Load boards, DUT boards, and interface boards may all refer to the same thing - a circuit board used to provide the special test circuits needed to set up a DUT for proper ATE testing. They are boards that interface between the ATE and the DUT, so in a way they may be considered as matchmakers between the two. Load boards or DUT boards can also be designed for hand testing. Hand-testing load boards have a socket for manual loading and unloading of the DUT instead of the cable that goes to the contactor assembly of the handler.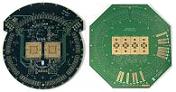 Fig. 2. Examples of ATE Load Boards
Companies with a large portfolio of products also use family boards, which are basically 'large' load boards that provide the 'common' test circuitries needed by a product family, say, ADC's. The family board goes into the ATE, while the DUT or load board goes into the family board, acting as a daughter card to the family board. The DUT board or load board further customizes the test circuits to the specific requirements of the DUT. Family boards and DUT boards contain all the necessary components to: 1) set up the DUT for correct testing by the ATE; 2) route the test and response signals between the DUT and the ATE; and 3) provide additional test capabilities that the ATE may not be able to provide.
Test Head Manipulators and Docking Systems
Modern ATE systems have a large test head that needs to interface with the handler system. Test heads are oftentimes too bulky for easy manipulation, so the test technician needs what is known as a test head manipulator or positioner for easier handling of the test head during the interfacing process.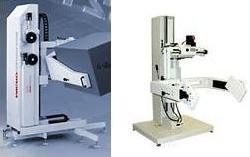 Fig. 3. Examples of Test Head Manipulators
Test head manipulators are basically mobile frame structures designed to hold and position ATE test heads for docking with a test handler, consisting of a system of wiring conduits with several axes of manipulation, counter-weighing mechanisms, and powered or manual gearing. Manipulators must be stable, reliable, and quick to set up.
Today's trend toward bigger, more capable test heads requires state-of-the-art manipulators that are more than just strong. The test head bundles are becoming more rigid and delicate, requiring more wiring and cooling conduits. Operators must be given more control of the test head during the docking and undocking process. Thus, a good manipulator also addresses the need for critical cable management and smooth handling, while independently controlling linear and rotational motions. Ease of docking and protection of delicate electrical interface components are a must.
Aside from test head manipulators, modern ATE systems and handlers also need a 'docking' system in order to interface with each other. Years ago, ATE systems get interfaced to a handler just through cables and connectors. Although this is a cheap way to get the ATE talking to the handler, it has some major disadvantages: 1) it can become disorderly and more difficult to set up; 2) it results in RF losses; 3) it is notorious for intermittent or poor contacts; and 4) it is inadequate for complex ATE/handler systems.
Today's highly competitive semiconductor testing industry requires not just a quick and convenient process for interfacing an ATE to a handler, but also a way to interface any tester to any handler. A universal, adjustable docking system is the answer to these needs.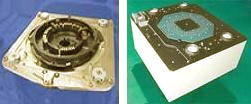 Fig. 4. Examples of Docking Systems
A docking system (see Fig. 4) is a test equipment accessory that mechanically connects the test head of an ATE to the handler, providing a robust, stable, and accurate interface between the ATE and the handler. By employing a standard and carefully selected docking system on the test floor, tester and handler interchangeability may be achieved to boost flexibility and productivity.
See Also: Test Equipment; Contactors; Load Boards; Electrical Testing; IC Manufacturing
Copyright © 2005. EESemi.com. All Rights Reserved.