Semiconductor Test Equipment
Automatic Test Equipment (ATE) or Electrical Testers
Automatic Test Equipment (ATE), or testers (see Fig. 1), are used in the process of automatically testing the electrical characteristics and performance of finished devices.
ATE's vary widely in accordance with the types of products they test. In general, however, it consists of an elaborate controller- or microprocessor-based system that controls: 1) boards or modules that can supply electrical excitation to the device under test (DUT) and 2) boards or modules that can measure the electrical characteristics and behavior of the DUT in response to the applied excitation.
Additional paraphernalia such as family boards and DUT boards are attached to the tester to configure it to the specific needs of the DUT, since the testers themselves are often designed to be as generic as possible.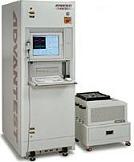 Figure 1. Example of an IC Tester
Electrical Test System Manufacturers:
Agilent Technologies
Hewlett-Packard offers a broad range of capabilities to provide cost effective, "Just Enough Test" IC test system implementations.
Advantest Corp., Tokyo, Japan
Advantest claims to be the world's largest manufacturer of semiconductor component test equipment and handlers. It has manufacturing, sales, and service facilities world wide.
Aehr Test Systems, Fremont, CA
Aehr Test Systems is a leading provider of systems for burning-in and testing DRAM and logic integrated circuits, including the FOX Wafer-Level Burn-in System, the MTX Massively Parallel Memory Test/Burn-in System, and the MAX Burn-in and Test System.
CompuRoute Corp. Dallas, TX
CompuRoute, a Cerprobe subsidiary, has been designing, manufacturing and marketing a wide variety of custom and generic test boards since 1972.
Credence Systems Corp.
Credence offers information on its products and the wide range of employment opportunities and benefits it presently offers.
CST, Inc. Dallas, TX
CST, which has provided the memory industry with simm testers, handlers, and adaptors for the past 13 years, has joined the WWW bandwagon.
ECT Semiconductor Test Group. Tempe, AZ
Previously ESH, this company has been making performance boards (DUT boards) since 1983.
INCAL Technology
INCAL is a manufacturer of Burn-in Equipment and accessories and also produces and supports the HP 947x series Mixed-signal test systems under license from HP.
KVD Company
KVD Company is a supplier of Semiconductor Automated Test Equipment for the Low End Mixed Signal Market.
Liberty Research
Liberty Research designs and markets custom high frequency, low inductance hand test and production sockets and fixtures for various packages.
Lorlin Test Systems
Lorlin Test Systems manufactures, sells and supports their line of Automated Testing Equipment and Automated Handling Equipment for Discrete Semiconductor Components.
LTX Corp.
LTX designs, manufactures, and markets linear, mixed-signal, and discrete semiconductor test equipment.
MOSAID Technology
The MOSAID Test Systems Division designs, manufactures, markets and supports memory test systems and data analysis software for engineers.
NPTest, San Jose, CA
NPTest, today a wholly owned subsidiary of Schlumberger Limited, provides advanced test and diagnostic systems as well as engineering services to the semiconductor industry,
NEXTEST Systems Corp. Cupertino, CA
NEXTEST produces the low-cost Logic, Memory, Scan, and Analog Maverick "personal tester" with test rates to 66MHz and pin-counts up to 512.
OZ Technologies, Inc., Hayward, CA
OZ Technologies provides a wide range of I.C. test interfaces: test sockets, contactors, interposers, package adapters, probes, burn-in boards, load boards and probe Cards.
SZ Testsysteme AG, Amerang, Germany
SZ Testsysteme AG is a manufacturer of automatic test systems (ATE) for production, incoming inspection and characterization.
Teradyne Corp., Boston, MA
With revenues of approximately $1.2 billion and over 4000 employees in the United States, Europe and Asia, Teradyne is a market leader in analog component test, memory test, VLSI logic test and circuit board test.
TMT, Inc. Sunnyvale, CA
TMT supplies cost-effective automatic test equipment to high-volume manufacturers of linear and mixed-signal semiconductor devices, both at the wafer sort and final package test.
Xandex, Petaluma, CA
Xandex's primary offerings are its DieMark inking systems, DUT boards and a line of prober-tester interface products.
Test Handlers
Mass production electrical testing can only be possible by attaching a test handler to an ATE. A test handler (see Fig. 2) refers to the equipment used in presenting the unit to be tested to the test site of the ATE, allowing the ATE to test the unit. After testing, the handler puts the unit to the appropriate output location based on the ATE test results.
Test handlers vary widely in configuration. Some use gravity to bring the device under test (DUT) to the test site and to reload them back into tubes. Others use special electromechanical or pick-and-place systems to accomplish this. Some handlers can only be assigned to one tester, yet some can be allocated to eight or more testers. A typical test handler is equipped with a loading or input stage, a test site, a sort shuttle, an unloading or output stage, various sensors, and interfaces to the tester.
For gravity-fed handlers, the input stage usually consists of input tracks into which the input tubes containing the units to be tested are inserted. The units slide down the input track into the test site for testing. After testing, the unit is then transported by the sort shuttle to the appropriate output track based on whether the unit is good or bad. Pick-and-place handlers usually pick the units for testing from a tray and present them to the test site for testing. After testing, the pick-and-place system takes the unit and puts it into the appropriate output tray.
Component Test Handler Manufacturers:
Advantest Corp., Tokyo, Japan
Advantest claims to be the world's largest manufacturer of component test handlers. It has manufacturing, sales, and service facilities world wide.
Aetrium Corp., N. St. Paul MN
Aetrium develops and integrates proprietary technologies into production-based test and handling systems used by the worldwide electronic component and semiconductor industry.
Avisa Corp. Vacaville, CA
Avisa Corporation offers the AV-280 is a state of the art, fully automatic Pick and Place IC handling system. Off the shelf proven components (Drivers, I/O Controllers etc.) are designed in resulting in extremely high accuracy and reliability, the AV-280 will handle devices up to 40 mm square, quickly and accurately.
DB Design, Milpitas, CA
DB Design Group is leading after-market supplier of Change Kits for DUT handlers. It promises short lead times and lower cost.
Lorlin Test Systems
Lorlin Test Systems, a greater Boston area company manufactures, sells and supports their line of Automated Testing Equipment and Automated Handling Equipment for Discrete Semiconductor Components.
RASCO AG
RASCO AG, located in Kolbermoor, Germany, manufacturers high speed gravity feed handlers
Simmpro
SimmPro (Tustin, CA 714-505-9600) suppies automation products including DIMM handler, SIMM handler, circuit board labeler, shipping tray loader, multi-site handler, and various circuit board packaging products.
Synergetix
Synergetix designs and manufactures custom modules,test sockets, and interfaces.
Shinano Electronics Company Ltd. (SYNAX)
Synax has been manufacturing of high quality pick and place handlers for the surface mount device industry for over 10 years.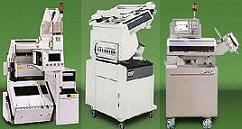 Figure 2. Three examples of Test Handlers
Tape and Reel Equipment
Tape and reel equipment (see Fig. 3), as the name implies, is the equipment used in packing and sealing finished products into individual pockets of a carrier tape, and in rolling this tape onto a reel. Taping and reeling is an alternative packaging process for small surface mount devices that are impractical to ship in tubes.
A typical tape and reel equipment consists of an input or loading stage, a vision system for inspection, a taping and reeling mechanism, and an output stage. The input stage usually consists of an automatic tube loading mechanism. The units from the input tubes are inspected one at a time for marking and lead defects before being deposited by a pick-and-place system into the individual pockets of the carrier tape.
The seal or cover tape and the carrier tape meet at some point in the machine, with the seal tape covering the carrier tape. The machine then applies heat to the seal tape to seal the pocket. This cycle repeats as the tape winds around the reel, and the process continues until the required number of units are taped and reeled. A series of empty pockets are generated at the start and end of the reel, known as the leader and trailer, respectively.
Systemation, Ismeca, STI, and Microvision are examples of manufacturers of tape and reel equipment.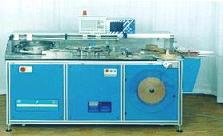 Figure 3. Examples of Tape and Reel Equipment
See Also: Electrical Testing; Test Handlers; Other Test Eqpt; Wafer Fab Equipment
Assembly Equipment; Test Accessories
Copyright © 2001-2005 www.EESemi.com. All Rights Reserved.