Wirebonding Tools
Wirebonding equipment use bonding tools known as capillaries for thermosonic ball bonding. Capillaries hold and control the bonding wire as well as form bonds from it during the ball bonding process. Capillaries are ceramic axial-symmetric tools with vertical feedholes (holes where the bonding wires are fed) through its center.


Fig. 1. Photo of uninstalled capillaries (left)
and an installed capillary (right)
The proper choice of capillary depends on many factors: bond pad size, bond pad pitch, wire diameter and hardness, bond pad metallization, bonder speed and accuracy, loop height, loop length, and package lay-out.
Capillary tips may either have a polished finish or a matte finish. Polished tips are specified for applications where bondability is very good. Applications with poor bondability require tips with a matte finish since these have a better coupling with the wire and exhibits better transmission of the ultrasonic energy to the bond.

Fig. 2. Photo of a capillary and
the ball bond it formed
Wirebonding equipment use tools known as wedges for ultrasonic wedge bonding. Wedges are usually composed of titanium carbide or tungsten carbide. They are typically 1/16"/1.585mm in diameter, and range from .437"/11.1mm to 1.225"/31mm long, depending on the type of wedge bonding machine being used.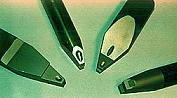 Fig. 3. Examples of Wedge Bonding Tools
Wedges usually have an entry hole or feedhole at a specified angle from the horizontal, which matches the feed angle of the wire clamp system of the bonder. These feed angles range from 30 degrees to 60 degrees. The wedge hole diameter typically runs about 1.5X-2X the wire diameter being used. Hole-to-wire ratio may fluctuate slightly due to specific applications, bond loop profiles, or wire material properties.

Fig. 4. Close-up photo of a wedge tip
Acknowledgment: Photos courtesy of Kulicke & Soffa
See Also: Wirebonding; Bonding Wires; Assembly Equipment; Assembly Accessories
Copyright © 2001-2004 www.EESemi.com. All Rights Reserved.