Marking
Marking is the process of putting identification, traceability, and distinguishing marks on the package of an IC. The device name, company logo, date code, and lot id are examples of information commonly marked on the IC's package. Some marks are put on the package during Assembly and some marks are put on the package during Test.
There are two common marking processes, namely, ink marking and laser marking. The most common ink marking process for semiconductor products is pad printing. Pad printing consists of transferring an ink pattern from the plate, which is a flat block with pattern depressions that are filled with ink, to the package, using a silicone rubber stamp pad. Silicone rubber repels ink, making the transfer of the ink pattern clean and efficient. It is also resilient and elastic, making it possible to print even on uneven surfaces.

Fig. 1. Photos of Silicone Rubber Pads used for Ink Marking
Simply put, the pad printing process can be broken down into the following steps: a) the stamp pad passes over the surface of the ink; b) the surface ink sticks to the pad; c) the pad is applied to the surface for marking; and d) the ink sticks to the marking surface as the pad lifts. Ink marking is usually punctuated by ink curing.
Aside from mark quality, mark permanence is a critical aspect of IC package marking. Mark permanence failures can be due to a lot of things such as use of inappropriate ink, use of improperly prepared ink, inadequate ink curing, and marking surface contamination. Good wetting of the ink on the marking surface is necessary for good marking. For wetting to occur, the surface tension of the ink must be less than the surface tension of the marking surface. Thus, a careful review and interpretation of the surface tension data of the ink to be used and those of the intended marking surface is needed to ensure good ink marking.
Laser marking, as the name implies, refers to the process of engraving marks on the marking surface using a laser beam. There are many types of lasers, but the ones used or in use in the semiconductor industry include the CO2 laser, the YAG laser, and diode lasers. In the semiconductor industry, lasers can also be used in micromachining, surface processing, trimming, welding, and cutting.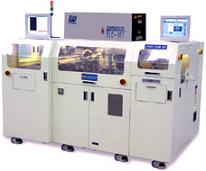 Figure 2. Example of a Laser Marker

Common marking

failure attributes include the following: 1) m

issing mark; 2) missing character; 3) misoriented mark; 4) wrong mark format; 5) misplaced mark; 6) mark permanency failure; and 7) inadequate mark contrast. For more details on marking failure attributes, see also: Marking Failures.

Front-End Assembly Links: Wafer Backgrind; Die Preparation; Die Attach; Wirebonding; Die Overcoat

Back-End Assembly Links: Molding; Sealing; Marking; DTFS; Leadfinish

Test Links: Electrical Test; Burn-in; Tape and Reel; Dry Packing; Boxing and Labeling

See Also: Laser Marking; Pad Printing Inks; IC Manufacturing; Assembly Equipment

Copyright © 2001-2006 www.EESemi.com. All Rights Reserved.